A few things spring to mind when the phrase 'holidays in Magaluf' is muttered; neon nights, plenty of unapologetic party rocking, and some seriously shameful shenanigans – that's just how things go down in the party capital of the Balearics.
It goes without saying that when you've saved up your spends for a wicked week in the sun, you're eager as beaver to get to sunnier climes and get the carnage started. Just over an hour away from the UK, you'll be in Magaluf faster than it took for Cheryl Cole's Stateside dreams to die.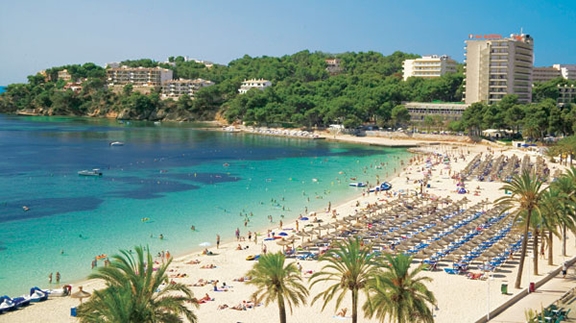 You need to know it's gonna be worth it, and booking with a clubbing holiday company gives you the best bet at a barmy break abroad. Get your mates round and look at Club 18-30 Holidays in Magaluf (http://www.club18-30.com/magaluf-mallorca). As well as expert advice on the area, you're in for some real perks with your package, from clubbing wristbands, free entry, cheap drinks and tons of epic events.
There's a ton to do in the day in Magaluf. Luckily, the resort and its neighbour, Palma Nova, cater for all kinds of capers, and have a waterpark, aquarium and off-road rallying excursions. As if that wasn't enough, blue flag beaches, watersports, and the Red Lion Boat Party (a la The Inbetweeners Movie) should be enough to keep your daytime debauchery on top form.
Although don't be distracted, spend your days chillaxing, and get ready for some serious sessions once the sun falls. Mallorca Rocks, School Discos, Silent Arenas, Paint Glow Parties and the infamous Pirates Reloaded are on hand to challenge even the most daring of diehard disco freaks.
All that, and then BCM – you know you have to. A Club 18-30 package will get you free entry into a handful of clubs, as well as the option of upgrading to a free bar package from midnight onwards.
#Magaluf2013 Oh yes, my friends.